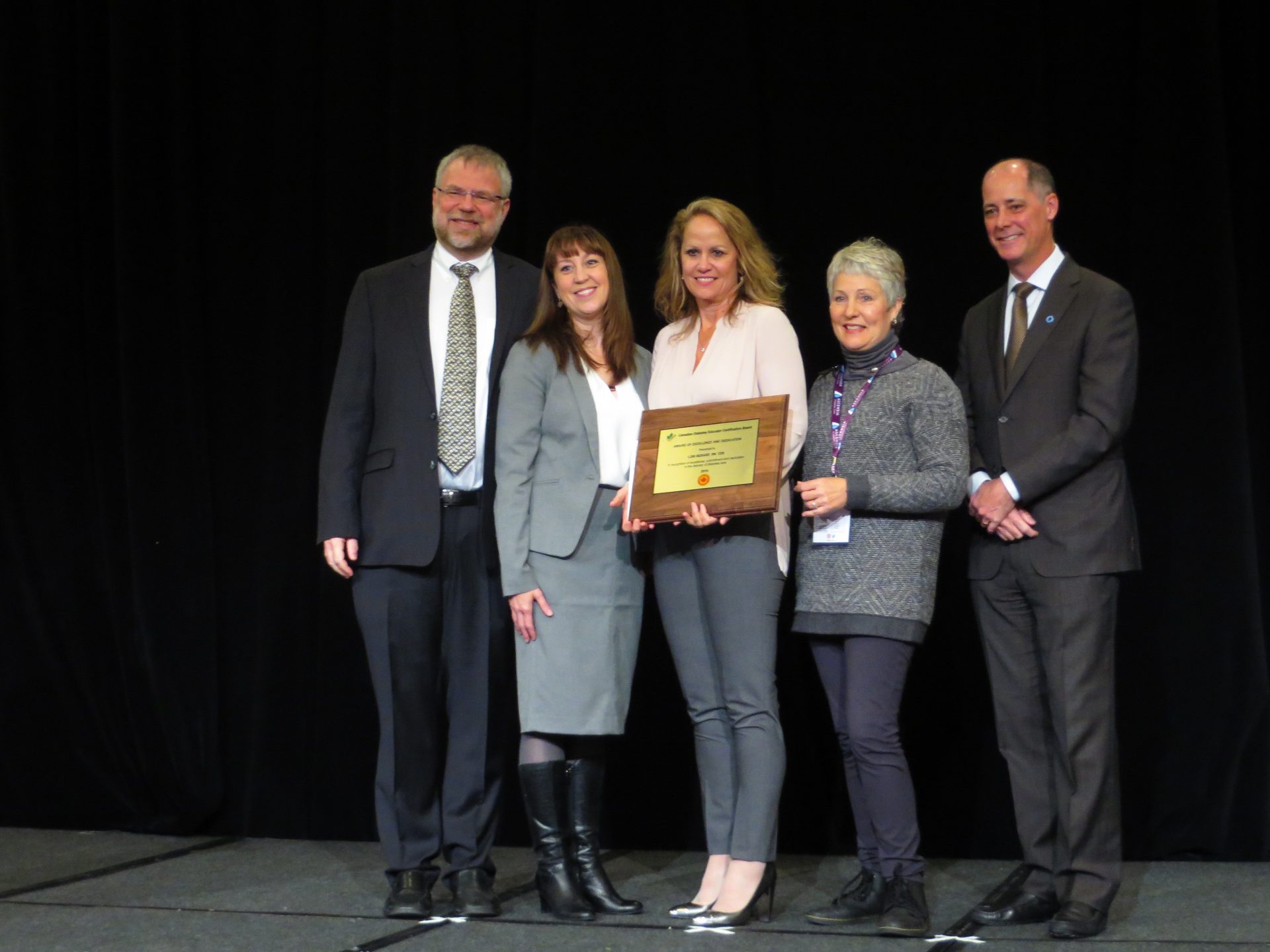 The Canadian Diabetes Educator Certification Board announces the 2017 recipient – Janet Wilpstra
Janet Wilpstra, RN COE, is the 2017 recipient of the Canadian Diabetes Educator Certification Board's
CDE ® Award of Dedication and Excellence.
"Janet's niche as a Certified Diabetes Educator is working in outreach locations, reducing barriers and serving vulnerable populations in their own communities", sites one of her nominators. Janet strives for health equity in diabetes care and has formed partnerships with local service clubs to purchase glasses for those who avoid eye examinations for the fear of requiring glasses they could not afford. Recognizing the need for accessible foot care Janet initiated other partnerships to provide chiropody care for those with financial barriers.
Janet helped pioneer diabetes group medical visits within her community and assisted with the development of the program in other sites throughout southwestern Ontario. Janet promotes health and wellbeing both inside and outside of work by volunteering as a canvasser for Diabetes Canada (CDA), assisting immigrants' transition to Canadian life, volunteering within her Church, and in a wild snowstorm immediately volunteering time at a makeshift shelter to help those stranded without diabetes medications.
Nominating colleagues describe Janet as an "inspirational diabetes educator" and "she is creative in trying unique ways to motivate clients and move conversation, and celebrates all successes, however small, with everyone she works with." Her clients tell their own stories of how Janet encouraged them to take ownership of their diabetes, living to their fullest potential.
Congratulations to Janet Wilpstra, RN, COE, from the North Lambton Community Health Centre, Forest, Ontario, the Canadian Diabetes Educator Certification Board's 2017 recipient of the Certified Diabetes Educator Award of Excellence and Dedication.
More News and Announcements